The Section Six Division One and Division Two wrestling championships will be held Sunday at University at Buffalo's Alumni Arena. The finest high school wrestlers from the Section who have qualified will compete for the Sectional championship and a trip to Albany to compete for the New York State championships.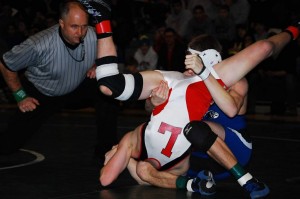 There are a number of defending Sectional Champions returning to this year's tournament and several who have an outstanding chance of winning or placing at the State Tournament in both Div I and Div II. Some of the top grapplers are Andrew Shomers of Lew-Port at 112 lbs, Steve Michel of Lancaster at 120 lbs, Rocco Russo of Frontier at 126 lbs, Renaldo Rodriguez–Spencer of Cheektowaga at 132 lbs, Dan Reagan of Lew-Port at 138 lbs, Drew Hull of Roy-Hart at 145 lbs, Anthony Liberatore of Will South at 182 lbs and Matt Montesanti of Medina at 285 lbs.
Admission: Spectators will be admitted starting at 9:00 a.m. ($5.00 per session / $10 all day).  Note: All spectators will be cleared from the Arena prior to the final Championship session.
Session I – 10:00 a.m.
– Wrestling Begins – First round through consolation finals.
Session II – 5:30 p.m.
– Championship finals 2 mats (1 mat for D1 / 1 mat for D2)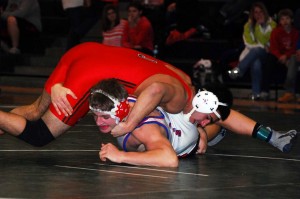 Filed under: High School
Tagged with: Andrew Shomers of Lew-Port at 112 lbs, Anthony Liberatore of Will South at 182 lbs and Matt Montesanti of Medina at 285 lbs., Dan Reagan of Lew-Port at 138 lbs, Drew Hull of Roy-Hart at 145 lbs, Renaldo Rodriguez–Spencer of Cheektowaga at 132 lbs, Rocco Russo of Frontier at 126 lbs, Section Six wrestling championships, Steve Michel of Lancaster at 120 lbs, UB