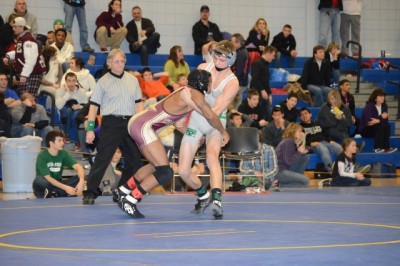 Cheektowaga's Renaldo Rodriguez-Spencer dominated the 132 pound weight class at the annual Niagara Frontier Wrestling Officials Association and won the Ilio DiPaolo MVP Trophy as a result. Rodriguez-Spencer pinned all five of his opponents including a first period fall over Lew Port's Ryan Kromer in the first period of his championship finals.
Webster Schroeder of Section Five was the tournament champion with two finalists, followed by Falconer, Lew-Port, Kenmore West, Lancaster, Lockport, Niagara Falls, Iroquois, Eden and Cheektowaga rounded out the top ten.
Thirty-seven teams participated in the two day event held each year at Niagara County Community College and run by the Niagara Frontier Wrestling Officials Association. Proceeds of the event are used to support wrestling in Section Six.
Full results and a photo gallery are at the All Sports WNY Section Six wrestling page.
Championship Final (1st)
99 –

Donny   McCoy

(

NF

)   >

Tristian   Almeter

(

Iroquois

),   FALL 1:48

106 –

Tony   Recco

(

Lyndonville

)   >

Anthony   Argentieri

(

KW

),   DEC 7-0

113 –

Andrew   Shomers

(

LP

)   >

Drew Marra

  (

Olean

),   OTD 3-1 (1OT)

120 –

Steven   Michel

(

Lancaster

)   >

Kellen   Devlin

(

Amherst

),   DEC 3-2

126 –

Rocco   Russo

(

Frontier

)   >

Rosario   Venniro

(

WS

),   MD 12-3

132 –

Renaldo   Rodriguez-Spencer

(

Cheektowaga

)   >

Ryan Kromer

  (

LP

),   FALL 1:26

138 –

Dan   Reagan

(

LP

)   >

Kyle Ross

  (

Falconer

),   DEC 7-3

145 –

Drew   Hull

(

RH

)   >

Eric   Lewandowski

(

Lancaster

),   DEC 2-0

152 –

Chet   Simoni

(

GC

)   >

Mark Stucke

  (

KW

),   DEC 4-2

160 –

Desha   Duckworth

(

NF

)   >

Peter   Armbruster

(

WS

),   DEC 13-9

170 –

Jon   Levchuk

(

BB

)   >

Shane   Currey

(

KW

),   DEC 7-3

182 –

Anthony   Liberatore

(

WS

)   >

Austin Lynn

  (

Frewsburg

),   DEC 7-0

195 –

James   Empfield

(

Lancaster

)   >

Dusty Lewis

  (

Salamanca

),   DEC 5-3

220 –

Marshall   Taylor

(

Lockport

)   >

Steven   Warthling

(

Tonawanda

),   DEC 7-5

285 –

Matt   Montesanti

(

Medina

)   >

Garrett   Rath

(

LP

),   FALL 5:51
Filed under: Local Headlines
Tagged with: Dick Beyer, high school wrestling, NFWOA, NFWOA wrestling tournament, Niagara County Community College, Renaldo Rodriguez-Spencer