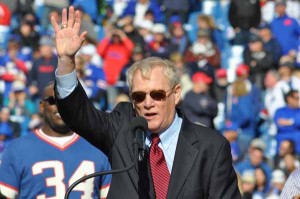 Sunday Bill Polian officially became the latest addition to the Ralph Wilson Wall of Fame. On Saturday night Bill had over 100 of his Western New York "kitchen" friends attend a reception as a warm-up to the official ceremony.
Polian explained to the group that the Irish would have what they would call "front room" friends who they were not really very close to and then they had "kitchen" friends who were close friends. It was that group of friends and family who came together to show Bill Polian how much they cared about the former Bills GM.
Among the recognizable attendees were Jim Kelly, Bruce Smith, Andre Reed, Steve Christy, Daryl Talley, Leonard Smith, Marv Levy, Scott Radecic, Eddie Abramowski, Paul Maguire, Ed Rutkowski, Van Miller, Rick Azar, Jack Armstrong, Dennis DiPaolo, Bud Carpenter, Jim Baron, John Murphy, Russ Brandon, Bill Munson, Marc Honan and Pete Weber.
Then of course there was Polian's proud family, including sons Chris and Dennis, both currently working for NFL teams and all of the grand kids. All in all it was a grand night for the Irish.
In Polian's remarks he thanked everyone, but became emotional as he credited Marv Levy for teaching him everything he needed to know to succeed in the NFL. Yes, a big weekend for the most successful General Manager in the history of the Buffalo Bills and well deserved.
Filed under: Koshinski's Korner
Tagged with: Andre Reed, Bill Munson, Bill Polian, Bruce Smith, Bud Carpenter, Buffalo Bills, Daryl Talley, Dennis DiPaolo, Ed Rutkowski, Eddie Abramowski, Jack Armstrong, Jim Baron, Jim Kelly, John Murphy, Leonard Smith, Marc Honan, Marv Levy, Paul Maguire, Pete Weber, Ralph Wilson Stadium, Rick Azar, Russ Brandon, Scott Radecic, Steve Christy, Van Miller