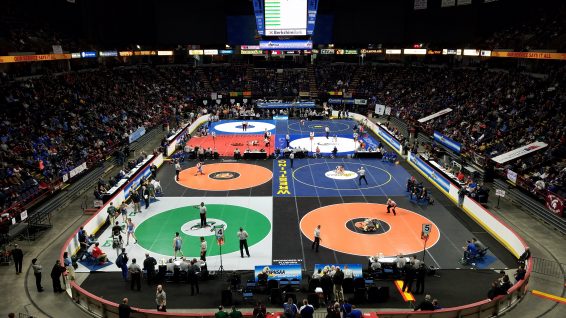 Full photo gallery of the Section Six wrestlers competing at the 2018 NYSPHSAA wrestling championships at the Times Union Center in Albany February 23rd & 24th. " order_by="sortorder" order_direction="ASC" returns="included" maximum_entity_count="500″]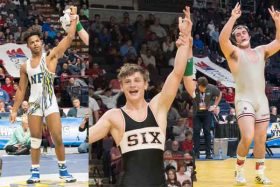 Section Six had five wrestlers compete in the finals of the 2018 NYSPHSAA wrestling championships held at the Times Union Center in Albany Saturday night and three grapplers walked away with the ...

The Section Six Div I & Div II wrestlers who will compete in Albany on February 23rd and 24th for the NYSPHSAA wrestling championships gathered at Lancaster high school Saturday for team ...

Niagara Wheatfield walked away with four individual champions Saturday to lead all Division I schools at the 2018 Section Six wrestling championships held at North Tonawanda high school. The Falcons had five ...
The Lancaster Legends and Falconer Golden Falcons won the 2018 Section Six team wrestling dual championships Saturday, January 20th in the Legends field house. Number one ranked Lancaster won the Div I ...

New York State is holding the first ever team dual state championship tournament January 27th in Syracuse, a move that may help save the sport from extinction. Participation in high school wrestling has ...

Powerful Wyoming Seminary prep school from Wilkes Barre Pennsylvania overwhelmed the competition at the 37th annual Niagara Frontier Wrestling Officials Association tournament at NCCC. Wyoming Seminary, ranked fifth in the nation among ...

On Friday December 8, 2017 Section VI held the 4th annual Hall of Fame Induction ceremony at the Columns Banquets in Elma. Twelve individuals were inducted into the HOF in front of a capacity ...

Niagara Wheatfield high school revived it's Athletic Hall of Fame after being dormant for the last eight years. Inducted Saturday, November 4th in the NW auditorium were long time baseball and golf ...

The Upstate New York Chapter of the National Wrestling Hall of Fame on Sunday September 17th inducted its class of 2017 at the Double Tree Hotel in East Syracuse. The Upstate New ...
Next Page »